It wasn't a dare exactly. More like an experiment, and then a labor of love.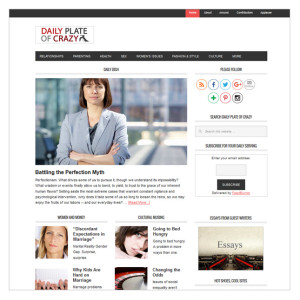 When an old friend suggested I start a blog, I attempted – twice – only to set the idea aside. In 2009 he urged me to try again, and I did. At the time, I had just completed a project, I missed my newspaper days, and I was hungry for more hands-on involvement in social media. Although my world was already busy – juggling freelance work and raising two boys – I plunged in.
And Daily Plate of Crazy ™ was born.
It was just the ticket for me to play, to learn, to articulate my questions, and to hone my online communication skills by intentionally writing in a variety of styles and voices. Unlike millions of blogs, I didn't seek to chronicle my daily happenings, but rather to poke, provoke, and engage in cultural commentary as well as to experiment as a writer, using experience as a starting point for exploring issues that many of us share.
With more than 2,000 articles in the archives to date, the site enjoys a growing readership in the U.S. and abroad, with an expanding list of high quality guest and contributing writers, as Daily Plate of Crazy ™ is a gathering spot for thoughtful men and women who are encouraged to explore "whatever life dishes out."