It wasn't a dare exactly. More like an experiment, and then a labor of love.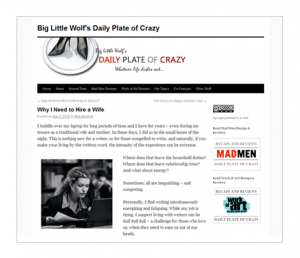 When an old friend suggested I start a blog, I attempted – twice – only to set the idea aside. In 2009 he urged me to try again, and I did. At the time, I had just completed a project, I missed the pace of my newspaper days, and I was hungry for more hands-on involvement in social media. Although my world was already crazy busy – juggling freelance work and raising two boys – I needed a mechanism for reconfiguring the pieces of an old life, a harried present, and moving into an emerging future.
And Daily Plate of Crazy was born.
It was just the ticket for me to play, to learn, to articulate my questions, and to hone my skills by intentionally writing in a variety of styles and voices.
Unlike most personal blogs, I didn't seek to chronicle my daily happenings. I wanted to experiment, to write lifestyle articles, to address whatever caught my fancy at a point in time. I write from life, rather than "telling all," using experience as a starting point for exploring emotions, observations, and issues many of us share. And by the way, Big Little Wolf is based on a nickname, and offered relative anonymity – among other things, so as not to embarrass two teenage sons!
With more than 1,400 articles in the archives to date, the site enjoys a growing readership in both the U.S. and abroad.
As for this journey, I could never have imagined how the site would grow, or grow on me. I could never have imagined the extraordinary individuals who would join the conversation. I could never have imagined the compassionate community, and the pleasure of getting to know other readers and writers. Together, we've been learning, laughing, and making a difference in each others' lives.
Daily Plate of Crazy is a gathering spot for thinking men and women who are unafraid to discuss their challenges as well as their triumphs. It's a place for exploring a woman's life, a writer's life, a parent's life – for processing change, however bumpy – and my own (all too common) issues to do with marriage, divorce, and single motherhood. It's my safe haven, and possibly yours. A place to deal with difficult realities in honest ways that nonetheless encourage us to move forward – regardless of the obstacles we encounter.
I expect Daily Plate of Crazy to evolve as the cultural conversation continues, frequently addressing some of those "big questions" we all ask ourselves, as so many of us struggle to make sense of our daily grind – whatever life dishes out, and yes – whatever we can make of it.